In the last update we could see all the artwork for the characters. By now, a lot of additional artwork has been started, with more and more illustrations trickling in for the monsters of the game:
However, the remaining monsters will take until end of the year at least to be finished. This means, we still have to live a bit with weird monster shadows for some of them in the upcoming releases.
As one illustrator was not enough to tackle all the item illustrations in a reasonable time-frame (overall, around 300+ small illustrations were needed!), I employed two additional illustrators to get everything done. Here is a small mix showing all artists (Eric Quigley, Nicoleta Stavarache, Jes Cole):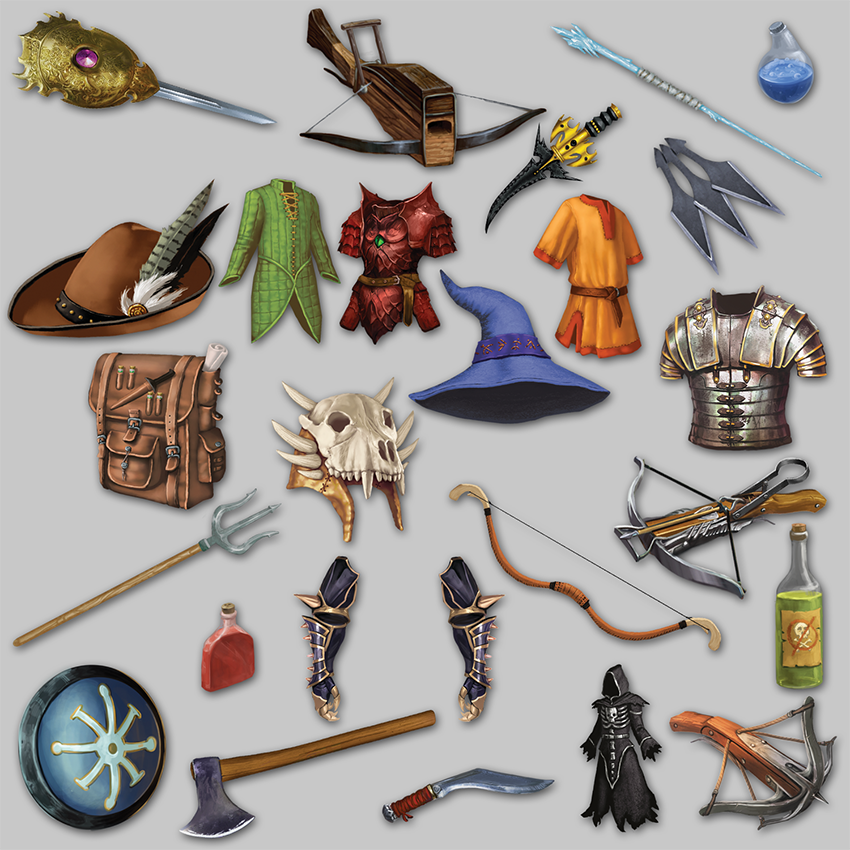 While they look all a bit different, this is not a huge problem, as most of these will be shrinked down to fit small Euro Mini Cards and color corrected by myself to fit a general similar theme. The ones I like the most however will also go into the rule and campaign booklets as a bigger version.
Additionally, the map of Doria has been completed. Parts of the full map will be used within each of the campaigns, showing the locations visited: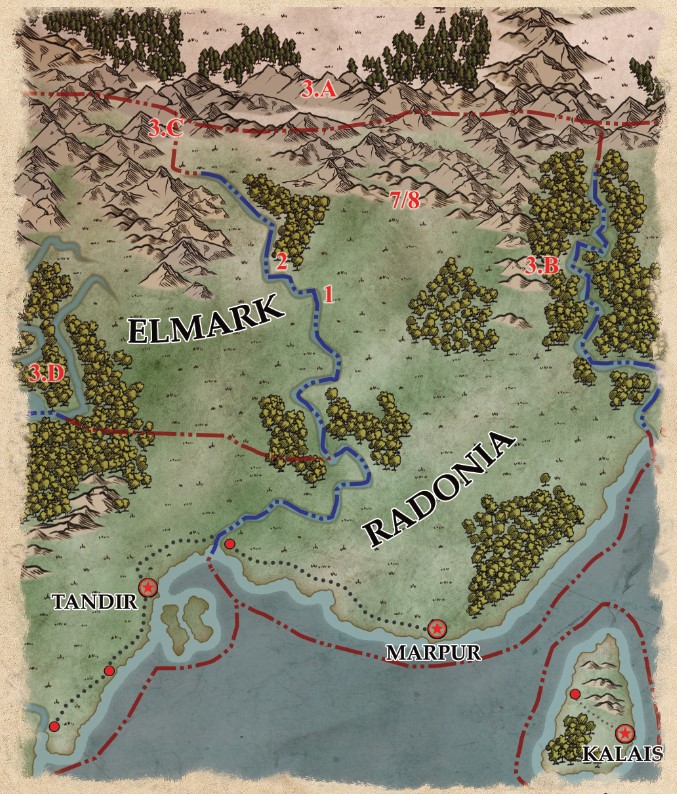 All of that together (maps, monsters, item illustrations) is going into the first official and complete prototype print run (though still lacking a few illustrations) . This will be ordered on Game Crafter, a Print-on-Demand-Service for board games. One full game will cost around 240 USD plus shipping, but is worth it to have a test-prototype to show around and possibly send to reviewers. More prototype copies will be printed later either by another manufacturing company or by Game Crafter depending on how the first looks like.
While GameCrafter has an extensive array of board game components (more than any other of the comparable services), a few of the components had to be tailored a bit more to Game Crafter, which took some time. But the result is a much more refined version of Dungeons of Doria, with new Character Mats, Score Pads for the Campaign and Character Sheets and especially a more "boardgamey" feeling Character Sheet (compared to the old, RPG-style one). The old character sheet (full page including cards and attributes) will still be offered as a download, but the complete game will come with the smaller ScorePad-version that removes the need to note down HP and similar things and allows to track them with tokens instead:
I really cannot wait to get the printed prototype, work out the last minimal problems and then order the final prototypes for the reviewers to send around!
And for anyone eager to try out the game: There will be a Christmas present in the December newsletter, so make sure you are subscribed!