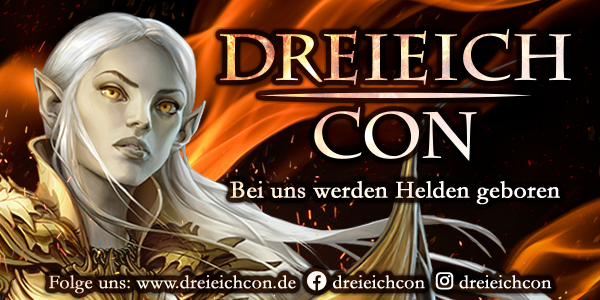 Leider komme ich erst jetzt dazu, endlich mal alles zu sortieren und einzupflegen. Im letzten November (2019) war DreieichCon und ich war vor Ort mit zwei Spielrunden "Dungeons of Doria". Während einer der Spielrunden hat die Offenbach Post ein paar Fragen gestellt, aber dass wir dann gleich als Aufhänger an den Anfang des Artikels und auf die Titelseite kommen hätte ich nicht gedacht!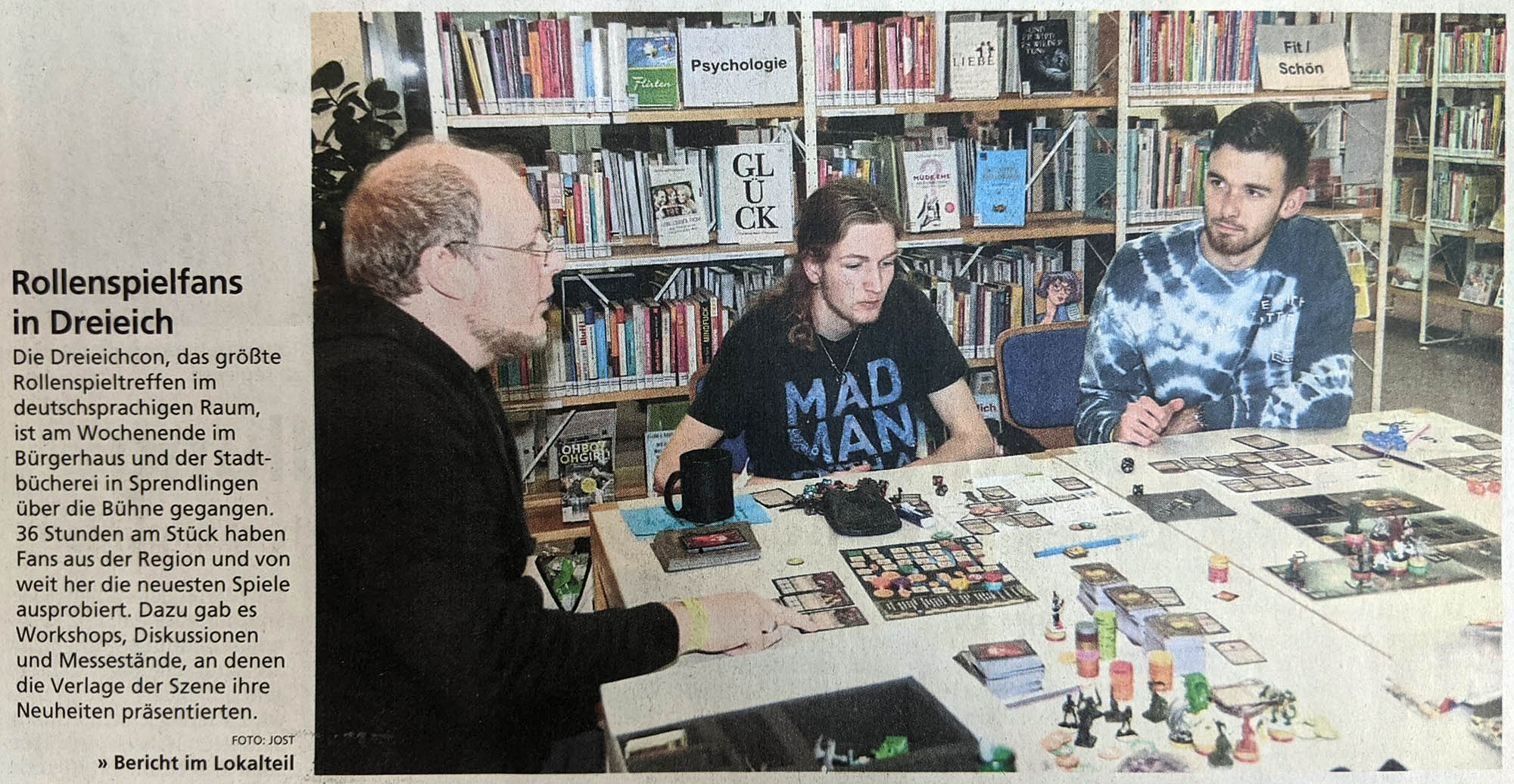 Die Situation wird brenzlig im dunklen Verlies: Die Monster werden gefährlich, aber die Gruppe rund um den Tisch in der Stadtbücherei will sich den Schatz nicht durch die Lappen gehen lassen.

Magier Julian Menz (13) nutzt seine Zauberkräfte und wirft einen Feuerball: Gefahr gebannt. Leider hat er dabei den Barbaren von Kevin Pelikan verletzt. "Das macht nichts, ich habe noch 13 Leben", sagt dieser.

Schon seit dreieinhalb Stunden brütet die siebenköpfige Spielgruppe über den Abenteuern der "Dungeons of Doria" von Spielleiter Viktor Ahrens. Mit Julian Menz und Jonas Rein (15) sitzen zwei Teenager aus Gießen am Tisch, der Spielleiter kommt aus dem Rodgau und ist seit vielen Jahren aktiver Besucher der Dreieichcon. Für den Offenbacher Kevin Pelikan ist das Rollenspieltreffen in Dreieich hingegen eine Premiere: "Es ist großartig, hier zusammen zu sitzen. Wir wissen nie, was passiert, decken zufällig Karten auf und entwickeln die nächste Strategie, um die Schätze zu heben und die Monster zu bekämpfen", erläutert er seine Begeisterung am Rollenspiel.

Aus dem Artikel der Offenbach Post, auch online verfügbar (op-online)
Ich hatte sehr viel Spass beim "leiten" der beiden Runden und zuzusehen, wie die Gruppen die Szenarien lösen ist immer wieder faszinierend. Jede Gruppe geht etwas anders vor, und es ist immer wieder spannend, ob sie es rechtzeitig und heil schaffen. Vor allem fand ich es toll, auch mal jüngere Spieler dabei zu haben. Dungeons of Doria bekommt damit die Altersfreigabe 12+ von mir 😉 Wer jetzt Lust hat, das ganze auch mal zu testen oder das Spiel irgendwann haben möchte, kann hier aktuelle Runden und Möglichkeiten finden und sich unter dungeonsofdoria.de in den Newsletter eintragen.
Ausserdem hier noch ein Foto mit freundlicher Genehmigung aus der Galerie des DreieichCon-Fotografen Roger Murmann.